Dog Grooming Services in Lauderdale, FL
If you're scouting for a dog groomer near Lauderdale, FL, then look no further than Tails by the Sea Pet Grooming. Our professional dog groomers provide exceptional service with a gentle touch to have your pet looking their best. Our experts groom all kinds of dogs. Whether your beloved pet needs a quick wash and brush session, or it is time for a dab of extra spoiling, our devoted staff is here to help with all of your concerns for dog grooming. We provide a hygienic, safe, and pleasant area to wash your dog. At the time of booking, please specify your dog's age, disposition, and size category to better help us pair you with the appropriate dog groomer and services. Schedule your appointment today.
Check out our individual services:
Paw Painting, Furminator Brushing, Flea & Tick Bath and Removal (In addition to Bath or Groom.)
We offer grooming for cats!
-Bath N' Tidy
-Shave or Lion Clip
Call to learn more! (954) 772-8177

Bath N' Tidy
Includes shampoo, conditioner, nails, pads, glands, privacy trim, ear cleaning, and face framing. We offer this for:

-Small Breeds
-Large Breeds

Full Groom
Includes all of a Bath N' Tidy plus haircut, scissor finish, bow & bandana, and pet perfume. We offer this for:

-Small Breeds
-Large Breeds

Nail Trim/ File
We cut nails to a prudent length, just short of the toenail quick. Nail trimming prevents painful nail cracking or nails breaking.

Teeth Brushing & Teeth Cleaning
Teeth brushing will protect against bad breath, tooth loss, and gum disease with regular teeth cleaning for a healthy smile.
Teeth cleaning is scraping off the tartar and buildup from the dog's teeth. It is the same technique that we use in a dental office for people. We use an instrument called dental scaler. Check out our Facebook Page or our dental cleaning page to learn more!

Haircut
We provide breed-specific haircuts. Cuts feature shampoo, dry, and hair trimmed on their head, paws, and bum.

Anal Gland Expression
Anal gland expression can help hinder symptoms connected with anal gland irritation. Glands can become infected if liquids are not drained naturally.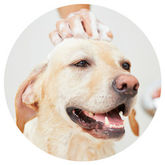 Thera-Clean®
Shampoo therapy is necessary for pets with dermatologic ailments. A pet's coat operates like a magnet for all types of dirt, dander, toxins, fungus, bacterias, and irritants. To receive the optimum benefit from therapeutic shampoos, topical contact time during the course of application is very important. Allowing the shampoo to sit on the skin allows it to get in the skin to provide soothing moisture. Another important step of using dog shampoos is rinsing because surfactants can produce skin irritation when they are not totally removed. Therapeutic shampoo will leave your dog' skin healthy, smooth, pliable, shiny, and manageable.

Sanitary Trim
For long hair doggies, sanitary hair cutting may be needed to cut long fur from around the bum.

Face Trim
Several pooches need a haircut from around their face. Our groomer will be able to help you identify the perfect style for your dog.

Ear Cleaning
A dog's ears are delicate and vulnerable to infection, excessive wax buildup, and ear mites. Cleaning your pet's ears reduces build-up to help hinder infections and reduce the smell.
Check out our pet grooming in Lauderdale, FL we offer non-anesthetic teeth cleaning!